Intensive Sailing Course
Take a maximum knowladge in 7 days of sailing.
Intensive course is for persons which prefer fast and intensive adaptation of skills. In seven days spent sailing on sailboats of different sizes and performances you will gain plenty of knowledge of sailing. We guarantee a fun week and deep immersion in the world of sailing.
Number of hours and program in this course combines all NAS sailing courses - Basic, Advanced and Skipper training - in one unique experience.
Four days we are based in Punat and we sail the Kvarnerić archipelago with accommodation on board the sailboat.
Three days we are navigating the wider North Adriatic archipelago (islands of Krk, Rab, Cres, Lošinj, Ilovik) and we'll be sailing at least 30 miles every day which makes this course ideal for gaining mileage necessary for various certificates and ideal for gaining practical skills under sail. Intensive course is conceived in a way that every participant will go through each position on board – skipper, trim of mainsail, jib and genoa, gennaker, anchoring, docking, etc.
During intensive course you will gain valuable experiences sailing because we sail under all weather conditions and this will be an opening towards offshore sailing for you.
This course includes one night under sails while the crew is divided in 4 hours shifts and each participant will go through every duty on board sailboat necessary for safe and efficient sailing. Navigating under stars has its own charm and you need to see it for yourself.
All you need to add to our sailing instructors' experience is Punat (Island of Krk - Croatia) and its vicinity to Zagreb, Ljubljana and other European cities. You will conclude that NAS Sailing Centre has everything you need for weekly or weekend skipper training or sailing courses.
What will you learn/do?
7 days of Non-stop sailing in the North Adriatic sea
Basic feauters and sailing terminology
Getting to know a sailboat
Safety at sea basics
Basics of sailing, wind rose
Sailing in a defined course
Turning windward and leeward
Meteorology basics
Navigation basics
Boating knots
Thorough introduction to equipment and sailboat systems
Use of meteorology
Route selection, setting the course and navigation in relation to weather forecast, wind and meteorological conditions
What will you learn/do?
Night watch
Night navigation
Cooking on boat
Introduction to equipment and sailboat systems
Sailing in and out of the port/marina
Manouvring-docking
Anchoring – choosing the right position and performing anchoring
Bow/stern, port and starboard side berthing
Avoiding collisions, navigation
Safety at sea – man overboard maneuver
How to use Safety equipment
Course schedules (next dates):
27.04.2019 - 03.05.2019available
25.05.2019 - 31.05.2019available
Intensive Course Price
| | Duration | Price/Person | *Low Season |
| --- | --- | --- | --- |
| Intensive Course | 7 days | 800 € | 720 € |
Discount:
-10% - Low Season Courses: March, April, May, September, October, November
-5% - every next person in group booking
Accommodation:
on board, twin cabin, shared
Included in the price:
accommodation, instructor, fuel, berth, tourist tax, transit moorings fee, welcome drink
Not included in the price:
food and drinks
Sailboat:
What our participants say?
We had an intensive three day sailing / skipper course with an excellent teacher Marko, who was explaining and showing us with a lot of patience everything we needed to know to charter a boat on our own. We got very useful information and tips as well as thorough training in manoeuvring a 13-meter sailing yacht - driving, sailing and docking. Worth every penny! We can highly recommend NAS Sailing. (Nina - Vienna, Austria)
I was taking daily courses with NAS Sailing and it was really great experience. Great offer and friendly approach with professional instructors. (W.S - Berlin, Germany)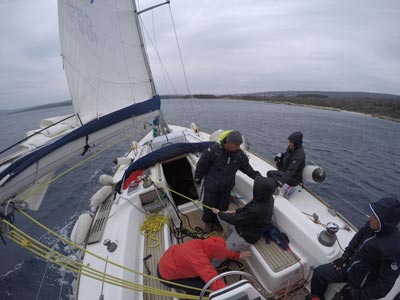 ---
---