Skippers at NAS Sailing
Marko
The founder and creator of the NAS Centre, after having crossed thousands of miles on world's' seas and oceans, Marko decided to make sailing more accessible and to share his sailing experience with all sea and wind lovers.
Born in '71 and since childhood inseparable from the sea, he sailed on the olympic classes and finished maritime school in Bakar near Rijeka. Long-distance sailing, barges and towboats, more than 8000 ocean and 7000 Mediterranean miles as well as 4 years of sailing on Maxi Race cruisers and more than ten years of skipper career promise a lot of knowledge, even more marine wisdom and experience and surely – a great sailing instructor.
Marko holds a Yacht master permission (100 BRT) and is currently studying on the Westlawn Institute of Marine Technology, gaining knowledge for building his first boat.
Robert
Only a year younger than Marko, born in '72, Robert gained his rich sailing experience mainly as a skipper on regatta ships in the Adriatic and Mediterranean sea in the period from 2000 till 2010 while as a professional skipper he works since 2005.
One of the recent regattas he participated in as a skipper was Giraglia Rolex Cup in 2014. Robert is a passionate fisherman and besides exploring the sea depths with a fishing hook, he also loves exploring the terrestrial depths as the amateur speleologist. Roberts holds a C category boat licence, speaks English and Russian and in recent years he is discovering the restoration secrets by bringing back the splendor to old wooden boats.
Vedran
Vedran said about himself: I was born in 1981. in Zagreb, and since then I have spent every summer at the seaside where I fell in love with sea and boats. Hence, after finishing high school in 1999. I enrolled undergraduate study Yacht and marina management in Dubrovnik, where I finally started to navigate. Shortly after I obtained my first boat leader's certificate. Having completed the study I became Nautical tourism engineer which determined my life and business career. Although I have never particularly been interested in titles, my academic education I have completed by finishing graduate study of Maritime management and by becoming Graduate economist in maritime management. Sailing and maritime skills I have strengthened by completing advanced sailing course at most famous Croatian sailing school, Adriatic Nautical Academy, and after a while I have successfully obtained certificate for Yacht master category A (yachts up to 100 GT). From 2003. until 2008. I have worked in the yacht sales companies, and my job, among other things, included mostly motor yacht transfers all over the Adriatic. During that period I was periodically chartering sailing boats with friends and finally I have started to skipper and navigate for pleasure as well as explore Adriatic bays and ports. In 2008. I got a "dream job" by becoming editor of More magazine. My main task was to test boats of all types and sizes, writing tests and other articles, to make reports of boat shows, news and other. At the same time I intensified my summer cruises in the Adriatic which I sailed all around and came to know almost all its parts. By combination of circumstances in 2014. I became freelancer but continued to work for More magazin, and since then I organize my time as suits me so I started to sail even more. Thus, somehow, I succeded to transform my interests and hobby since childhood into my own business which I adore. The same year I became a proud owner of a small sailing boat named Mama.
Bojan
Born in 1970, Bojan started sailing in the optimist class at the age of 8 in YC Galeb (Seagull). During the career he sailed in the optimist class, 420, FD, 49er, J24, Snipe and achieved laudable successes.
Multiple champion of Croatia in the optimist class, 420, FD and Snipe
European champion in the class 420
Champion of the Mediterranean in the class 420
Participation at Olympic Games in Barcelona in 1992 in the class FD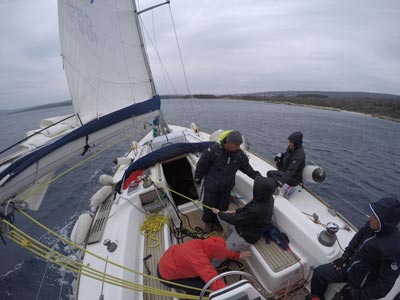 ---
---